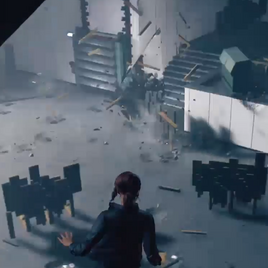 "
We also encountered an Astral Spike, a strange entity from another dimension, appearing as a giant ball made of spikes that is unpredictable like a glitch.
"

–Elise Favis, Game Informer [1]
Astral Spikes are an enemy type that appears in Control. While little is known about them, they appear to not be variations of the Hiss, but rather entities of their own. They have been described as giant balls made of spikes that are "unpredictable like a glitch". They originate from the Astral Plane.
Astral Spikes were first observed by Astralnauts, specially trained Bureau agents trained to navigate the Astral Plane and have their brainwaves turned into footage. Though the agents could only enter the Astral Plane through their minds, it was discovered to exist as an actual place, and its inhabitants could get out. One such Astral Spike (then called an Astral Fugue) "hitchhiked" a ride in an agent's head to get into the Bureau. It burst through the agent's head, killing them, and went on a rampage before being contained.
Community content is available under
CC-BY-SA
unless otherwise noted.