The Foundation is a sector and a location in the Oldest House.
Description
The Foundation is located through a massive corridor located in the Restricted Area in the Maintenance Sector. The outer regions of the Foundation consist of a vast room with large gray pillars, a cluster of which are rooted on a huge square platform. One of the pillars on this platform bears a carving of a tree which can be used to translocate to the Foundation's main area.
The main area of the Foundation consists of various caves and rock formations surrounding The Nail. The central cavern where The Nail is found, called the Crossroads, is open to the pillar chamber. The white stone and bluish crystals of the caves defies analysis, as with the black stone that The Nail is composed of, but the red sand was determined by early Federal Bureau of Control explorers to be nothing more than iron oxide, or rust. There is no organic life in the Foundation due to low-level radiation emitted by The Nail, but Astral Copies, Astral Mimics, and Astral Spikes that emerged from the Astral Plane wander the sector.
Due to the damage caused to The Nail by Helen Marshall during the Hiss invasion, the Astral Plane permanently leaked into the Foundation. Jesse Faden restored The Nail, which stopped the Astral Plane from further bleeding into the real world, but could not reverse the damage that was already done.
Areas
Maintenance Sector Areas
Restricted Area

Nowhere (cable car passage)

Foundation (portal to cave near Research Site Gamma)
Foundation Sector Areas
Astral Collision
Base Camp
Canyon Rim
Cave Bleed
Cave System
Chasm
Collapsed Department (Processes & Protocols Offices)

Data Entry And Filing
Evaluation Hall
Morgue (inaccessible)
Sector Lobby C
Transit Access
Transit Control

Crossroads
Deep Cavern
Fractured Cavern
Lower Crossroads
Nowhere (Maneki-neko chamber)
Research Site Delta
Research Site Gamma
Upper Warehouse
Warehouse
Warehouse Path
Map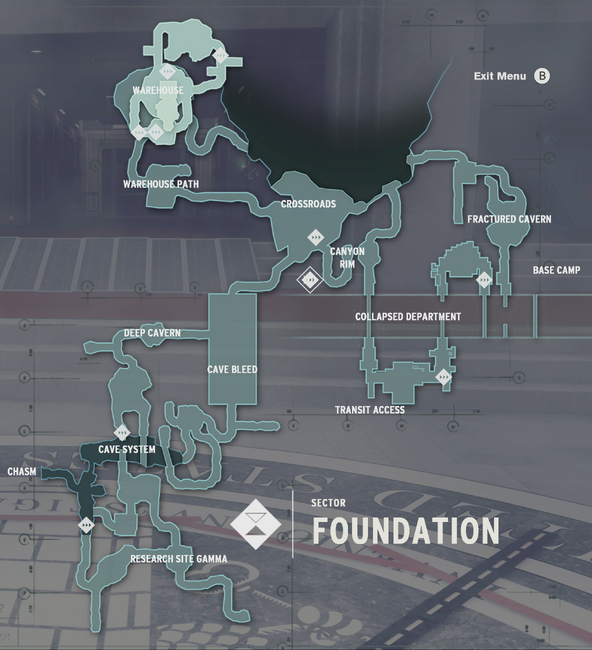 Trivia
Given that Control was strongly inspired by the SCP Foundation, the "Foundation" may be a reference to this. Just as the Oldest House grew from the roots of the Foundation, so to did Control itself grow from the roots of the (SCP) Foundation.
ㅤ