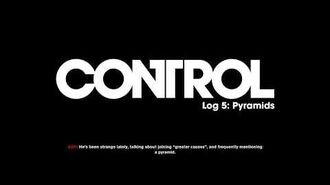 Multimedia: Log 5: Pyramids is one of the collectible audio recordings found in Expansion 1: The Foundation. It is part of a series of recordings made by Dr. Theodore Ash during his time investigating the Foundation. In this recording, Ash thinks about the connections between Director Northmoor's description of an inverted pyramid and the Id's inverted triangles.
Recording transcript
[
]
Dr. Theodore Ash:
Entry day plus 51. Northmoor has ordered an all-hands search for objects similar to the Service Weapon. He claims there are more in the House, though I don't see how he's so certain.
He's been strange lately, talking about joining "greater causes", and frequently mentioning a pyramid. After pressing him he finally described this pyramid to me. Inverted, black, mathematically perfect. Oddly enough, Adam and the other Id have shown me numerous inverted triangles painted on the cave walls. Surely there is a connection, but I don't see it yet.
As far as occult symbols go, triangles are by no means rare. Fludd, Levi, Krohl, they used that shape like it was going out of fashion. Standing on their base, triangles signify stability and strength. Inverted, on their points, they represent conflict and stagnation. Of course, the orientation is just a matter of perspective. Looking at the pyramid from below gives you one, from above, another.
Northmoor says that he looks up at the inverted pyramid. I have to wonder: is anyone standing over it, looking down?
See Also
[
]