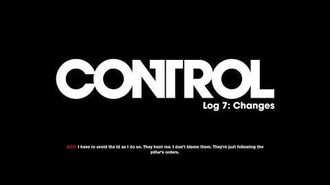 Multimedia: Log 7: Changes is one of the collectible audio recordings found in Expansion 1: The Foundation. It is part of a series of recordings made by Dr. Theodore Ash during his time investigating the Foundation. In this recording, Dr. Ash details his ability to sense the Oldest House's energy and his thoughts on the House in general.
Recording transcript
[
]
Dr. Theodore Ash:
Entry day plus 118. I have changed, although It's hard to know how or why. I no longer need tools to detect the House's veins, to hear it breathe. I can feel its blood churning beneath my bare feet.
I have added my own illustrations to the walls, trying to solve some mystery that the Oldest House whispers to me.
I have to avoid the Id as I do so. They hunt me. I don't blame them. They're just following the pillar's orders. Even poor Adam doesn't seem to recognize me anymore.
I've spent a long time contemplating the etchings of the tree and its roots. Did you know this city used to be a forest? I wonder if our Oldest House wore a different face back then, or if it was always here, a 21st century office building since time immemorial? Can a place know the future? Can it change its skin? Can it wander?
I always thought the esoteric world was my father's, not mine. But here, in this sacred place, I finally understand his devotion. And his awe.
Location
[
]
The file can be found in the Foundation in the Crossroads area. From the Crossroads control point jump in the pit in front of the nail. The recording can be found by the south-western wall.
See Also
[
]