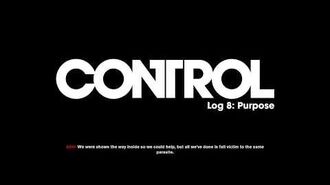 Multimedia: Log 8: Purpose is one of the collectible audio recordings found in Expansion 1: The Foundation. It is the last in a series of recordings made by Dr. Theodore Ash during his time investigating the Foundation. In this recording, Dr. Ash details his decision to leave the Foundation to warn the Bureau about the dangers of the Oldest House.
Recording transcript
[
]
Dr. Theodore Ash:
Nobody else hears the House. Their ears are too full of lies. We were shown the way inside so we could help, but all we've done is fall victim to the same parasite.
I should have seen the web earlier, the strands between Northmoor, the pillar, the gun, the Id. But what hope did we have, thrown into this conflict beyond our comprehension?
I've decided to rejoin the Bureau in the upper levels, to end my long absence spent in the Foundation. Northmoor will be angry at me for disobeying him, that's just his way. But I don't care. I need to remain in the Oldest House, to help however I can. I doubt I can steer the Bureau back on the right course, but I have to try.
How did I go so long with a purpose? Without devotion? I can hardly remember how it felt. I realize how grateful I am to Father for setting me on this path. I wish I could tell him that.
See Also
[
]