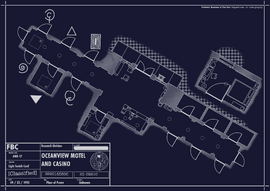 The Oceanview Motel & Casino is a Place of Power connecting various dimensions. Discovered through an Altered World Event which occurred in Butte, Montana in 1992, the motel has many rooms leading to unknown locations, but visitors are only capable of returning to other areas of the Oldest House. The motel operates on dream logic, behaving differently from ordinary reality. It always appears to be daylight outside whenever someone is traveling through the motel, and it is impossible to enter or leave it by any means other than a light switch cord.
Additionally, Jesse Faden, upon entering the motel for the first time, remarks that compared to the numerous other motels she has been to, the Oceanview "feels like all of them, like something recognized from a dream."
Despite its unusual characteristics, the Oceanview Motel may be a physical location in the world rather than a construct in the Astral Plane or a Threshold, etc. After the Federal Bureau of Control discovered the Oceanview Motel in 1992, it started a program based on this assumption that involved sending agents to survey all motels across the United States to find the Oceanview, but this does not appear to have succeeded.
Notable Events
During one of Jesse Faden's visits, a man can be heard outside the motel trying to get the attention of any employees inside before deciding the building is empty and telling his wife that they will find lodgings elsewhere.
During another of her visits, a visceral scream can be heard, and a blood stain in front of room 223 can be seen.
See also
References