This page has little to no hyperlinks. This page may not be easily discoverable because of this.
Help make this page more discoverable by linking some important terms.
If this page is not supposed to have many links, simply delete this warning from the page and remove the page from the unlinked category.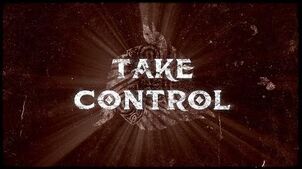 "Take Control" is a song featured in Control performed by Old Gods of Asgard, the fictional counterpart of the band Poets of the Fall.
Lyrics
Take control
Take control
I see a vision rising, dreary
Fading in as children play, twilight games
In the town called Ordinary
An eye of light reveals a gateway to doomsday
In that projection of reality
Something passes through the stars, shifting walls
Enter agents of ill fantasy
For evil holds you in its arms, false alarms
[Reversed audio: Landing on the polar star and rushing on to the red room, find the cord to take you to a secret rendezvous.]
Illusory, treading on reality
Polaris in a web of hypocrisy
Take control
Take control
Oh, can't you see, see the light is fading?
And in the night the demons rage and call your name
No deeper madness than your own making
Visions lashing blades of shame, but will you take the blame?
Hissing noises in the hallway
Bloodshot eyes, staring through, what seeds are sown?
Who'll survive the blood-red power play?
Who'll take control, whose name will be known?
[Reversed audio: The diamond will tell you where; 1, 19, 7, 1, 18, 4, 9, 19 ("Asgard is")]
Illusory, reality's all fallacy
Polaris in a web of hypocrisy
Take control
Take control
I wish I'd had the wherewithal to find you when I had the chance
Instead I danced with death in fervor's skin
I missed the moment before the fall to recognize I had a voice
A choice to stop it all from happening
If only I could save you from the pain
A rising sense of awe and wonder
A might I see has always been deep within me
I can feel my inborn power
I call the shots when it's all finally clear to see
And so I'm drawn ever deeper
In the Oldest House and all these empty rooms
This vacant, spellbound mystery motel
Where I'm the keeper, where I set the rules
[Reversed audio: In their drunken fever states, see them both profoundly; the pyramid in the stone file becomes a spruce tree]
Potency is my new reality
Polaris living now inside of me
I control
I control
I control
ㅤ